It's so humid out...the kind of humid where I'm sweating anytime I poke my head outside. It's also hot out...the kind of hot where I'm fairly certain I'll suffocate from the heat whenever I have to get into my car. I've been trying tons of things to stay cool:
Cold showers
Sitting in front of the air conditioner
Having a cold drink
Sitting in front of the air conditioner
What a variety! I must say, all of these things have worked out splendidly. Last night I indulged in a little Monday night happy-hour. It was still relentlessly hot and humid, but the sun was starting to sink and I figured it would be a great time to sit outside on the pub deck and enjoy a cold one. I tried something new last night and I'm pretty sure I love it. I say 'pretty sure' because it's odd, it's different, and I still don't expect the taste every time I take a sip: Schell's Shocked Radler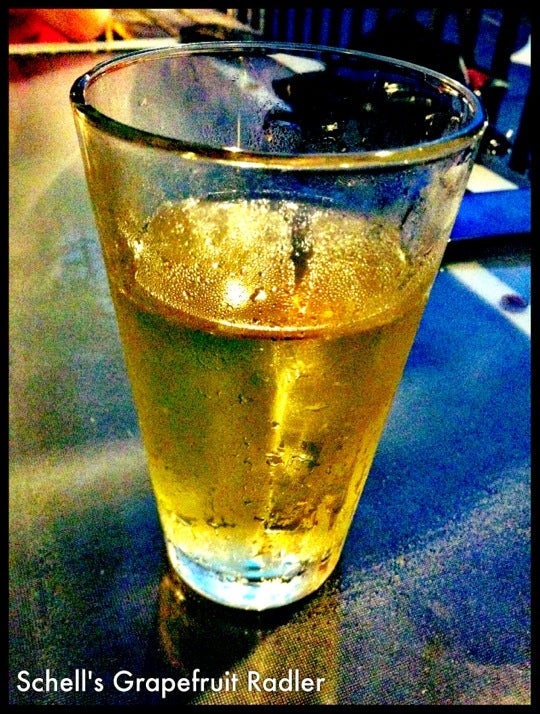 (photo taken by Chad Aldrich)
For those of you unaware, a Radler is a German-style beer concoction usually comprised of a 50/50 or so mix of beer and lemonade, soda or juice. I first had one of these tasty things in Deutschland itself! 50/50 Beer and Lemonade....it was delicious. Everyone looked at me like I was a crazy person when I'd ask for the same mix in an American bar. After explaining what it was, everyone wondered why I didn't just go for one of the conveniently bottled Shady's that so many breweries have taken up. Granted, I do enjoy these brews, but they seem a little 'off' compared to a hand-mixed Radler.
The Schell's Shocked Radler is a mix of grapefruit juice and a lighter ale (I'm assuming, but don't quote me...). It's light, it's smooth, it's not overly sweet/tart/hoppy/beery...it's just a simply refreshing beverage. Try one!